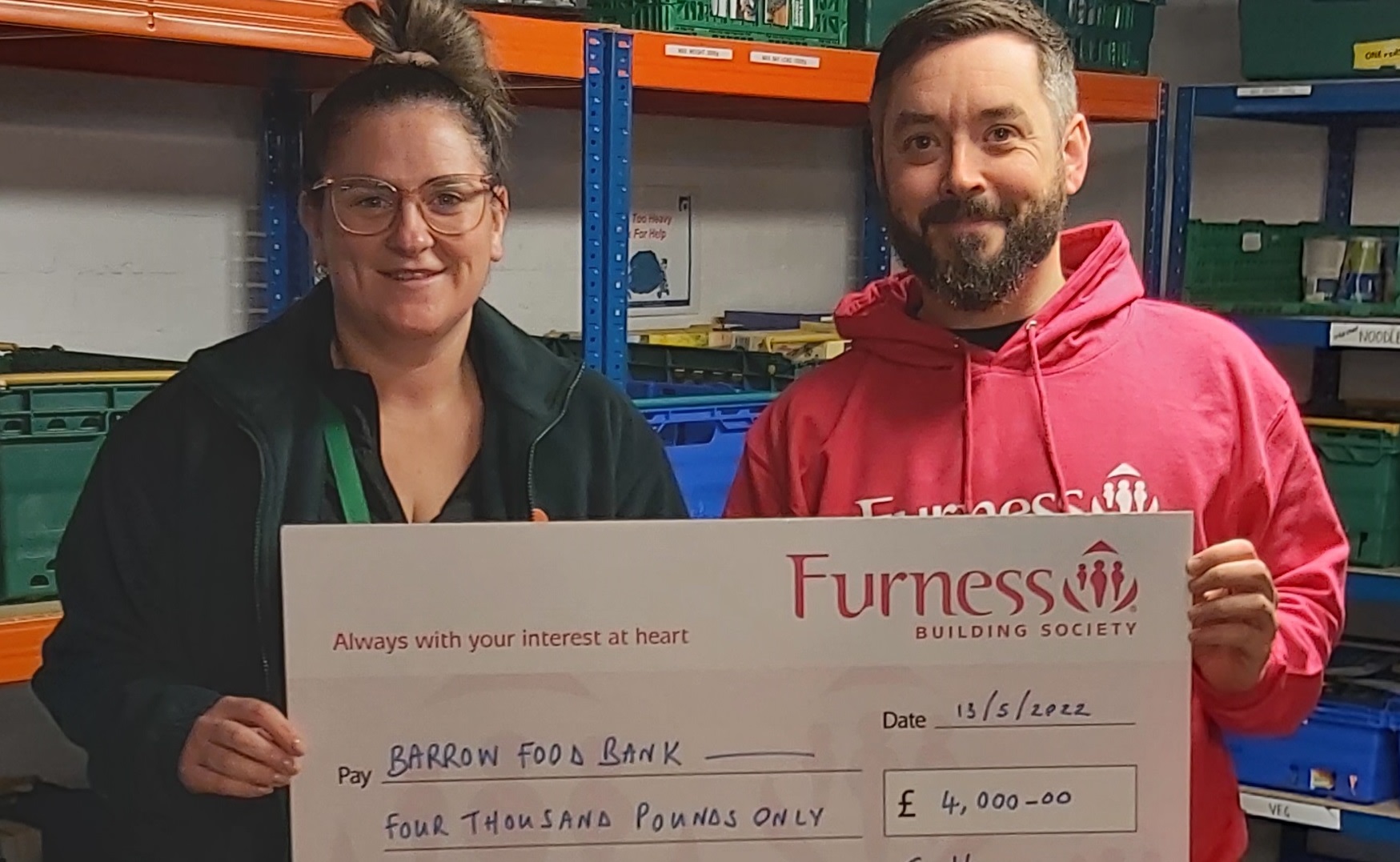 Boost for Barrow Foodbank
Furness Building Society has donated £4,000 to Barrow Foodbank to support local families during the escalating cost of living crisis.
The donation forms part of a commitment from the building society to draw on its Cumbrian heritage to give back to communities within its heartland.
Pledging to donate £1 for every member vote received during its 2022 AGM, Furness raised £4,000 for the local foodbank.
Barrow Foodbank provides three days' nutritionally balanced emergency food for local people in food crisis. Last month this equated to 363 people of whom 139 were children.  It forms part of a UK-wide network of foodbanks working to combat poverty and hunger in towns and cities nationwide.
Claire Coulthurst, Project Manager at Barrow Foodbank, commented: "I am  once again overwhelmed by the generosity from Furness Building Society and extremely grateful to its members who helped generate the £4,000 we have received. We are currently in the process of updating the foodbank centre and warehouse as this year marks our 10th year of being open and some of the fixtures and fittings are in need of being replaced. This money will help contribute towards new racking and equipment needed to store and move food safely around the warehouse.
"We are also anticipating a huge rise in the need for our service given the recent energy price hikes, increase in cost of living and fuel prices rising. We have already started to see an increase of new people and families using the foodbank, some of whom have never needed us before."
Anthony Kearney, Marketing Implementation Manager at Furness Building Society, added: "Using our position as a Barrow-based building society to support people in our heartland is very important to us. We understand the pressure local families are feeling given the rising cost of living and wanted to use our AGM as a means to raise money to help tackle this. Foodbanks fulfil a vital role feeding families in food and fuel crises and this is going to become even more critical in the months ahead. We hope that our donation goes someway to helping Barrow Foodbank with its invaluable mission to combat hunger."