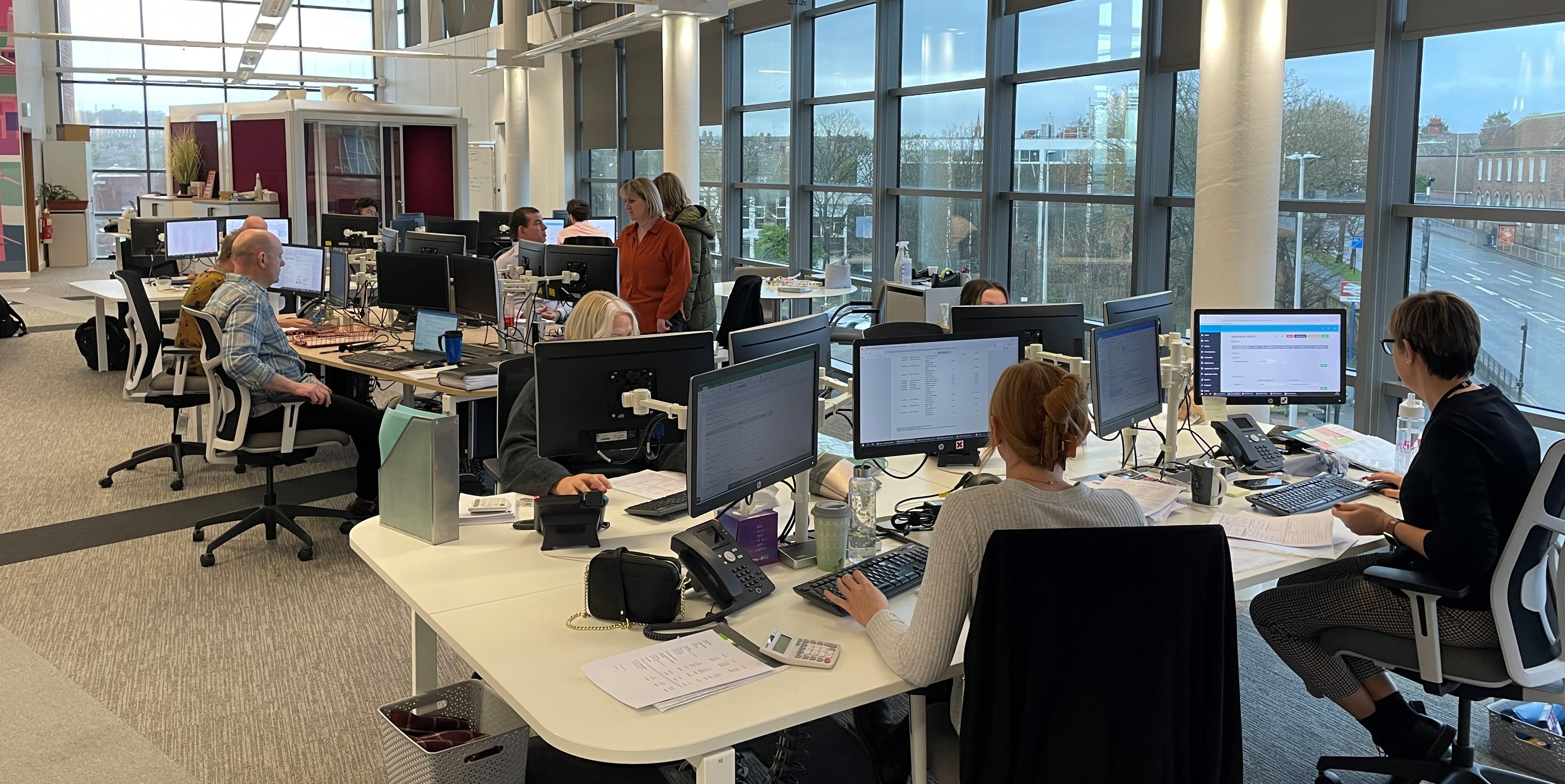 A day in the life of an underwriter: Karen Harrison and Holly Trainor
A day in the life of an underwriter
We know that our human approach to underwriting is one of the things you value the most as brokers.
But how familiar are you with the people carrying out this invaluable exercise? Our trusty team of ten underwriters work tirelessly to make affordability work for your clients, often dealing with highly complex cases. We sat down with two of our long-standing employees to discuss what a typical day's work looks like…
Starting with a coffee and a new caseload
How does the day start for an underwriter at Furness Building Society?
HOLLY: Like many, our working day starts at 9am. So we're at our desks at Furness HQ, with a tea or coffee, ready to get going and curious to find out what new cases you'll have brought our way.
KAREN: We always set aside the first two hours of the day to make a start on the new caseload of applications so we can keep momentum going and ensure the app-to-offer time is as efficient as possible.
HOLLY: Yes during this time we make a point of being uncontactable and we're very strict about that. Everyone in the business knows not to disturb us so we can make good headway through the new applications.
KAREN: We're typically able to make a start on two new cases within this two-hour window and we can complete the full affordability assessment during this time providing we have all the supporting documentation.
Digging deep to unlock affordability
What about less straightforward cases?
HOLLY: More often than not when reviewing new applications, we need to compile a list of additional information in order to progress the application; documents that brokers may not have realised will help us make the affordability work.
KAREN: Yes, we'll review the core elements such as bank statements and payslips and complete a credit search but there are often other pieces of paperwork, such as P60s or statements from other bank accounts, that we need to consider to progress a case.
HOLLY: We'll then email the broker handling the case and set out what we need and why. We usually find brokers already have many of the answers to our queries, they just weren't aware we'd need it. And why would they! That's our job. Drawing out evidence that we hope will enable us to make a client meet our affordability criteria is one of the most important aspects of what we do.
KAREN: We often liken ourselves to detectives for this reason - digging deep into the background of an application and obtaining information that could result in the decision changing from a no to a yes.
HOLLY: That's definitely the most rewarding part of this role.
Supporting the dream of home ownership
How does the rest of your day shape up?
KAREN: When we've sent out our broker requests, it's time to look through our emails and check out what additional information has been sent in for the live cases we're already working on. We also work closely with the Business Development Managers to help them advise their clients on the affordability of certain cases prior to applications being submitted.
HOLLY: The whole process can be very intense. But because it's manual we can pick up on a lot more than a computer can; you just have to know what you're looking for from a financial perspective and be prepared to track it down.
KAREN: That's why as a team we're office based rather than remote and we were the first to return to the workplace after lockdown. We need to be able to call on fellow underwriters for support and a second opinion and we often get together as a team to discuss particularly complex cases.
HOLLY: It's this approach that means we hardly ever have to immediately dismiss a case. As people we're invested in enabling a positive outcome for our brokers and their clients so from the outset, we're determined to do our best to make the affordability fit our criteria.
KAREN: We really want to make a mortgage offer and more importantly, we want to know we did everything we could to make that happen.
Using technology to increase efficiency
Does the manual approach lengthen the app-to-offer process?
KAREN: Timing is really important for many brokers and their clients, particularly in the current climate with rising inflation impacting interest rates. I know many worry that our manual approach means our app-to-offer time is longer but if there is ever a delay, it's very rarely for that reason.
HOLLY: Yes we pride ourselves on our ability to turn around applications swiftly - speed is usually determined by the quality and extent of the supporting information from brokers, which in turn is impacted by the complexity of the case. Many of our cases involve multiple income streams or are from those who are self-employed or portfolio landlords and this of course impacts the level of evidence we need to demonstrate affordability.
KAREN: Technology helps of course and we've come a long way from when I first joined Furness when everything was paper-based. Our online application system makes us a lot more efficient and because it is overlaid with our outline criteria, applications that don't meet our initial requirements can't be submitted, which saves us a great deal of time.
HOLLY:  We're human led but tech powered - it's the best of both
Service with a smile
What's one of the more unusual parts of the job?
HOLLY: I'm used to it now but studying an individual's bank statement can feel quite strange and intrusive as it's highly personal information. That said, it's very compelling observing how different people choose to spend their money. As the saying goes, one person's trash is another person's treasure!
KAREN: The online banking references people compose when transferring money to friends and family can be quite amusing - particularly amongst some of the younger applicants. They often give me a chuckle.
Karen Harrison and Holly Trainer are both underwriters at Furness Building Society.